We continue to use the material from Mary-Kate Warner, which has been so well received by our staff and the kids. Each week the class will hear a Children's Message in worship about Moses and during Kid's Club, the staff will use a combination of scripture reading, object lessons, games and activities, along with take home material. We have found this combination will help the kids learn lots of important things about the topic they are studying and in this case, Moses and his walk with God.
This week we talk about following God's Will and maybe not such a good outcome at first but a reward can come from God possibly.  Next week will be talking about the parting of the Red Sea.
** Remember that our new sign in location is at the Movie Room just inside the front entrance. Parents are reminded they must sign their children in and out of Kid's Club. See you this Sunday!

The material comes from the same company we have been using for almost a year. The lessons will include: studying the Bible, a craft project, a game and take home material. The Bible Doctor will have a Children's Message each Sunday to coordinate with the lesson for that day. We hope to see all of our younger disciples in the Kid's Club Program. Remember that our new sign-in area is located in the Movie Theater as you come in the front door.
We welcome all elementary students to participate in the many activities we have during Kid's Club. 

The Bible Doctor (Pastor John) shares about Psalms with Kid's Club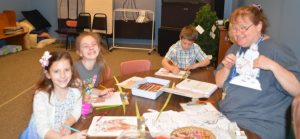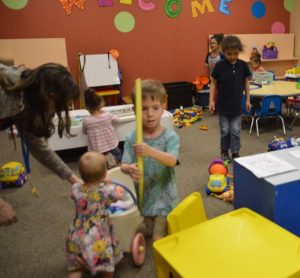 (Above - Left) Robin, JCPC Kid's Club Director leads the children in the Palm Sunday story
(Above - Right)Children in the Nursery enjoy play time under the supervision of Megan, Nursery coordinator.