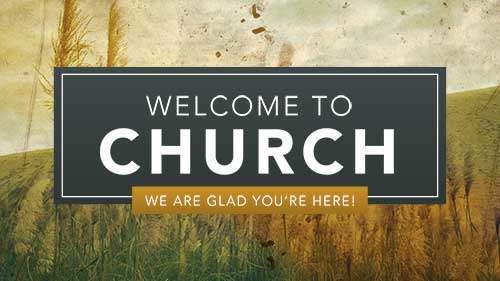 At John Calvin Presbyterian Church, we're always excited to welcome new visitors. We hope you'll join us for a service, and we want to make your visit as comfortable as possible. Here's what you can expect when you come to our 10:30 a.m. service.
Our church is located at the corner of Natural Bridge Road and the Rock Road in Bridgeton, and there is plenty of parking. If you have mobility restrictions or young children to carry, feel free to use one of the spots closest to the door. 
When you walk in, find one of our greeters and introduce yourself. They're usually stationed at the doors, and they'll show you where everything is. They'll help you find the nursery and Sunday school rooms if you have kids. Our greeters can also point you to the restrooms, sanctuary and fellowship area. If you have any questions about the service itself, the greeters are able to provide helpful answers.
Be sure to hang around after the service and join us for coffee. You'll have a chance to meet our pastor and many other people in the church. We'd also love to get to know you so you're a familiar face the next time you come.
---

A NOTE TO SEEKERS FROM PASTOR JOHN:
I want to take this opportunity to invite you to our church to participate in my next sermon series called, "The Gospel According to Dr. Seuss".  The series begins on Sunday, February 4th and runs for seven weeks until Sunday, March 18th.  Theodore S. Geisel is the real name of Dr. Seuss. He was not necessarily a great religious leader who incorporated theology into his stories, but his stories are none-the-less great examples of some important understandings of the Gospels of Jesus.
For example, in the story, Green Eggs and Ham, the main character Sam-I-Am keeps trying to get another person to try green eggs and ham.  But the other person continues to reject tasting them until finally, he does and the reader finds out he really does like this unusual dish.  Part of what we are called to do as a church is to reach people who are resisting Jesus' invitation to be a part of their lives.  If they finally accept it, they will fall in love with their decision because it changes their life.
Are you seeking a change?  Are you resistant to Green Eggs and Ham? Do you want something better in your life?
Then come join us for this Bible Series. Our worship begins at 10:30.  We have a fantastic Praise Band, which leads our worship. We also have an adult choir and adult hand-bells that add uplifting special music from time to time.  The sermon is biblically based and evokes the presence of the Holy Spirit.  Our worship is high energy.
If you have any questions, please call the church office at 314-739-3066.
God bless you and your family and I hope to see you at the start of this series.
Rev. Dr. John R. Shear