Having watched "the Passion Live from new Orleans" For Holy Week, we will continue our study of the Gospels this week turning to the Gospel we call John. We will see how what was happening in the Jewish world and among the followers of the Way of Jesus influenced this Fourth Gospel. We will look particularly this week at the way John 3:16 can impact our lives.
PLEASE REMEMBER!
This Saturday
 the youth group will serve the food during the garage sale from 
9 a.m. until 1:30 p.m.
 - ish.  Please be at church before 
9 a.m.
!  Thank you!
————————————————————————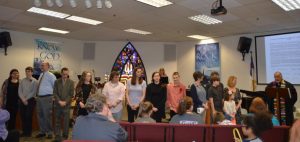 The 2017 Confirmation Class at JCPC was received into membership on Palm Sunday. 
If you have any questions, please contact Pastor John at 314-249-8024.