From Fear to Hope: A Ukrainian Refugee Family's Story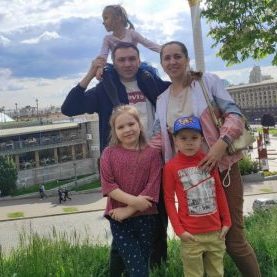 The Prokhodov Family is made up of a loving mother and father, Victoria and Oleg, a sweet 7-year-old daughter, Marianna, playful 5-year-old twin son Gleb, and spunky 5-year-old twin daughter, Alisa. A talented commercial and artistic photographer, Oleg has recently been continuing his education in the art of graphic design. He was laid off from his job at a successful Logistics company at the start of Russia's war on Ukraine. Victoria has been able to retain her position as a supervisor at the same Logistics company. She also has artistic talents and a love for nature and fishing. The Prokhodovs are an active young family who enjoy outdoor activities such as hiking and biking and playing.
They have been living with Oleg's parents during this time of turmoil and must hide in the basement several nights per week where they have to sleep. The basement experienced flooding a few months ago which has caused recurring illnesses in the children. They have occasionally awoken to reminders of warfare in their yard, such as pieces of missiles. The alarming roar of warning sirens have become a familiar soundtrack for their daily lives. Victoria and Oleg are frightened for their family's well-being. They desire to move their family to St. Louis for a safe and happy living. Their plans for thriving in their new U.S.A. community include competent schooling for the three kids, employment in the field of Logistics for Victoria, and employment in the field of commercial truck driving for Oleg. They are excited about a fresh start, learning English, and making new friends.
Victoria's aunt, Zoryana, sponsored her brother (Victoria's uncle), Igor, early this year through the U.S. Citizenship and Immigration Services Uniting for Ukraine Program. Zoryana subsequently reached out to Sarah Gregor from Chatham Bible Church who is successfully sponsoring a refugee family of 6 from Ukraine. Sarah has kept detailed notes of her experience with the refugee sponsorship process which she shared with JCPC to encourage more refugee help. JCPC member, Amy Brixey, began investigating ways to help The Prokhodov Family in May and JCPC's Ukrainian Refugee Support Team was assembled in June.
Fearful of waiting too long for the volunteer of a willing sponsor as Russian attacks escalate on the family's city of Kyiv, Zoryana agreed to be the family's sponsor with the understanding that JCPC will be listed on the official application as a party responsible for $24k of the financial support of the family. As of this August, JCPC's Session agreed to commit $24,000 to help the family of Zoryana's niece move to the safety of St. Louis. The $24,000 is to be reached through fundraising and donations. In the meantime, JCPC's Carl and Juanita Riepel Memorial Fund will be accessible for immediate financial needs, with the intention of being replenished through fundraising efforts.
The Ukrainian Refugee Support Team has committed to supporting this family with use of these funds for some of their living expenses and to help them get acclimated to their new life in St. Louis, as neighborly Christians are called to do. Zoryana submitted the Uniting for Ukraine Sponsorship application on September 15th. All those involved are praying that God will see the application through the approval process and see the family reach their destination safely. Please join us in this mission of serving this family in desperate need of assistance.