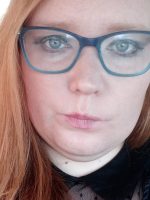 Mary Ridge joined the Presbyterian church and was baptized in 2015. She has helped Robin Kinquist, the Kids Club leader, in planning and implementing educational activities and projects in the Pre K-6th grade Sunday School program (which is called the Kids Club). She was active in the choir for a bit and currently volunteers every year to help set up and participate in the children's fun house during Halloween.
Mary Ridge has also helped as a Co-Leader and a volunteer with the Girl Scouts of America. She was involved with various children's programs through Webster Groves high school such as Adventure club and as a camp counselor.
Mary has a heart and passion for reaching out to children in various settings. Her current position as dispatcher at AAA doesn't allow for this type of interaction and so she loves working with the children at John Calvin Presbyterian Church.